Welcome to Fischer Painting, where we specialize in top-quality concrete pool deck construction and installation services in Las Vegas, NV. As a leading provider of superior concrete services for 40 years, we take pride in transforming your pool area into a beautiful and functional outdoor space. And with our combination of experience and expertise, we guarantee exceptional results that will not only enhance the aesthetics of your pool, but also increase its durability and longevity.
Expert Concrete Pool Deck Construction

At Fischer Painting, we understand the importance of having a well-constructed and visually appealing pool deck. Whether you are constructing a new pool or renovating an existing one, our team of skilled professionals is dedicated to delivering outstanding craftsmanship and customer satisfaction. We work closely with you to design and build a pool deck that perfectly complements your style, preferences, and the architectural elements of your property.

Beautiful Concrete Pool Deck Installation

Our concrete pool deck installation services are second to none. Using only the highest quality materials and cutting-edge techniques, we ensure that your pool deck not only adds value to your property but also provides a safe and stunning space for relaxation and entertainment. Our team will also carefully assess your needs and make expert recommendations to create a pool deck that meets your specific requirements.

Enhance Your Pool Area with a Concrete Pool Deck

A concrete pool deck offers numerous benefits, making it an ideal choice for homeowners in the Las Vegas area. With its versatility and durability, concrete is known for its ability to withstand heavy use, harsh weather conditions, and frequent exposure to water. So whether you prefer a traditional concrete pool deck or desire a more decorative and customized design, our team has the skills and expertise to make your vision a reality.
Increased Safety and Functionality

Safety is a top priority when it comes to pool deck construction, and our team is committed to ensuring that your pool deck provides a secure and dependable surface for all users. We take into account factors such as slip resistance and proper drainage to prevent accidents and maintain the area's functionality. With our expertise, you can have peace of mind knowing that your pool deck is built to last and designed with safety in mind.

Customizable Designs to Suit Your Style

At Fischer Painting, we take pride in our ability to deliver customized concrete pool decks that perfectly reflect your unique style and preferences. Whether you prefer a classic and understated design or desire a more intricate pattern and texture, we have a range of options to suit your specific aesthetic needs. Our team also will work closely with you to select the right colors, finishes, and decorative elements to create a pool deck that enhances the overall beauty of your outdoor space.
Exceptional Customer Service
We believe that exceptional customer service is key to our success. And with that in mind, we understand that every customer has different needs and preferences, and we strive to provide personalized solutions that exceed expectations. From the initial consultation to the final installation, our team will guide you through every step, ensuring clear communication and transparency throughout the process. Your satisfaction is our ultimate goal, and we are dedicated to delivering results that you will love for years to come.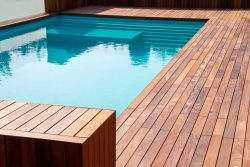 Reach Out to Us Today
Ready to transform your pool area with a beautiful and durable concrete pool deck? Then don't hesitate to contact us at Fischer Painting! Our team of experienced professionals is standing by to provide you with a free consultation and estimate. So experience the difference of working with the leading experts in concrete pool deck construction and installation in Las Vegas, NV. Contact us today and let us turn your vision into reality.