Welcome to Fischer Painting, your premier choice for driveway painting services in Las Vegas, NV. We specialize in transforming dull and worn-out driveways into stunning and vibrant pathways that enhance the curb appeal of your property. And with 40 years of experience in the painting industry, we are committed to delivering high-quality results that exceed your expectations.
Why Choose Us for Driveway Painting?
At Fischer Painting, we understand the importance of maintaining an attractive and well-maintained driveway that adds value to your property, and our team is passionate about enhancing the aesthetics of your home and ensuring complete customer satisfaction. Here's why you should trust us for your driveway painting needs:
Expertise and Experience

With four decades of industry experience, we've honed our skills to deliver exceptional driveway painting services. Our team of highly skilled professionals is well-versed in the latest techniques and only uses premium-quality materials to achieve durable and long-lasting results.

Attention to Detail

We pay meticulous attention to every detail, ensuring that the painting process is executed flawlessly. From thorough surface preparation to applying the perfect coat of paint, we take pride in our craftsmanship and guarantee a beautiful finish.

Customized Solutions

We understand that each driveway is unique and requires a personalized approach. That's why our team will work closely with you to understand your vision and offer tailored solutions that align with your preferences and requirements.
Our Driveway Painting Services
Concrete Driveway Painting

If you have a concrete driveway that's lost its luster over time, our concrete driveway painting service is the perfect solution. We begin by thoroughly cleaning the surface to remove dirt, debris, and any previous coatings that may affect adhesion. Our experts then apply a high-quality primer followed by multiple coats of premium paint, giving your driveway a fresh and vibrant look.

Resurfacing and Repairs

If your driveway is riddled with cracks, pits, or other imperfections, our resurfacing and repair service can help restore its original beauty. We meticulously inspect the surface for damages and perform necessary repairs, ensuring a smooth and even base for the paint. Our team then applies a durable resurfacing product that not only enhances the appearance but also adds strength and durability to your driveway.
Sealant Application

To protect your newly painted driveway from harsh weather conditions and regular wear and tear, we apply a high-quality sealant that acts as a barrier against water, UV rays, and other potential damages. This sealant provides an extra layer of protection and extends the lifespan of your driveway paint.

Color Consultation

Choosing the right color for your driveway can make a significant difference in the overall aesthetics of your property. That's why we offer color consultation services, where our experts will guide you in selecting the perfect shade that complements your home's architecture, landscaping, and personal style.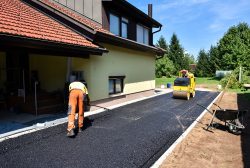 Transform Your Driveway Today!
At Fischer Painting, we take pride in our ability to transform dull and worn-out driveways into beautiful and eye-catching features. Whether you're looking to rejuvenate an old driveway, or you want to improve the overall appearance of your property, our skilled team is here to help. So contact us today to schedule an appointment and experience the difference our professional driveway painting services can make.