Fischer Painting
Since 1997, Fischer Painting has proudly provided top-grade professional painting services to homes and businesses throughout Las Vegas, NV. Our work has been featured on top-rated remodeling TV shows and we've worked on projects for Las Vegas' most prestigious businesses! We're ready to bid on your painting project and will deliver unparalleled results that speak for themselves.
Professional Painting in Las Vegas, NV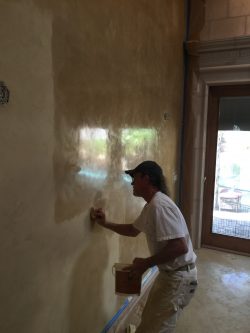 Painting your home or business is about so much more than picking a color and buying the supplies. It's about applying paint with purpose and accuracy, so you're left with a finished façade that's pristine and beautiful. At Fischer Painting, we've been painting for more than 40 years and in that time, we've mastered the art of perfect execution. From surveying your space to prepping the paint surface, applying primer and paint to adding the finishing touches, our work is thorough and encompassing. It's why we're the go-to painter in Las Vegas, NV for homeowners and businesses, big and small. Our work is simply unmatched, with results that are truly breathtaking.
Our approach to offering top-tier painting services in Las Vegas, NV is methodical. Each project starts with expert consultation, where our senior artisans guide you from start to finish, guaranteeing your project to be on time and within budget. From there, we prep the space and ensure everything is ready for a smooth application. When we're done, we thoroughly inspect and touch up where needed, to ensure the final presentation is up to the highest standards of quality! We even go above and beyond to offer niche projects like pool deck repair, concrete patching, stucco and drywall, and more. Our focus is always on delivering excellence to our customers. Contact us today and see for yourself the level of dedication our team brings to every job.
We have more than 40 years of professional experience, covering interior and exterior painting for commercial and residential properties.
Our business is affiliated with the Better Business Bureau (BBB) and maintains a superior rating. We're also fully licensed in Nevada (Lic. #0062563).
We're pleased to offer discounts to military veterans and senior citizens.
We offer 2 to 25 year label warranties on our products for your peace of mind.
We offer free estimates and are ready to bid on your project, with a bid limit of $150,000!
Ready to Bid on Your Project
If you have a painting project coming up, get in touch with our professionals today. We'll gladly review the scope of work and place a bid on your project. Contact us today!
We offer the best in commercial and residential painting in:
Boulder City, NV
Henderson, NV
North Las Vegas, NV
Pahrump, NV
Paradise, NV
Spring Valley, NV
Sunrise Manor, NV
Winchester, NV